NEWS | FEATURES | PREVIEWS | EVENTS
By Ilene Dube, JerseyArts.com
originally published: 07/16/2022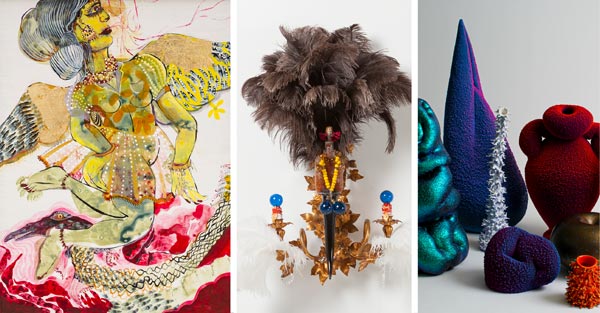 Behold the titles used by Rina Banerjee. They read like poems.  
The one for her installation at the Hunterdon Art Museum, for example, where the exhibition Rina Banerjee: Blemish, In Deep Pink Everyplace Begins is on view through Sept. 4, reads: 
"She would be a vision of Beauty if only…her complexion was whitened! As if to be not, to see her as that which is not and separately see part of her upon reflection, only as not human, not body and not yet whole, not yet made, as illness, as a single flaw with intent to take away, save it with this so to cure (vanish cream) her of ugliness, oldness, blemishes, freckles, moles and race deliver her as a sign of brightness, lightness, crowned beauty is a defining system. Where her otherness could marked, has been crowned."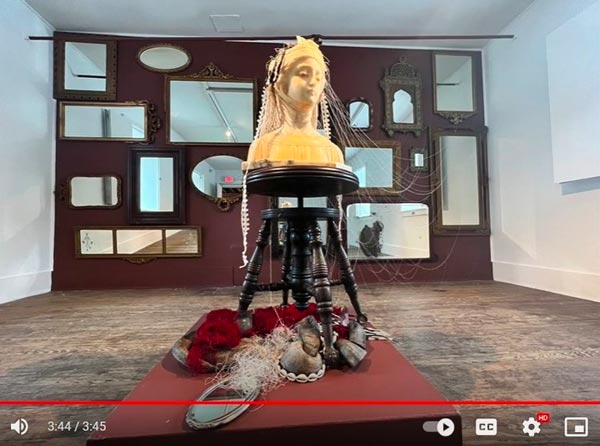 Rina Banerjee, "She would be a vision of Beauty…"
Asked about her process in writing these, the artists says "I am so often unable to surrender the brush, the pen, the paint to a painting, and so I ask to speak in tongues that share what I imagine the visual image could be about."
The above-named installation includes an alabaster bust on a mahogany piano stool wearing a lace cap whose frayed strands are splayed in a network connecting to a wall of antique mirrors, hung salon style. Cowry shells, buffalo horns, a handheld mirror and more frayed threads are piled at the base.
Advertise with New Jersey Stage for $50-$100 per month, click here for info
---
The woman depicted in white marble might be described, by some, as having classical beauty, but clearly her angular features and alabaster complexion exclude a large portion of the world's beauties.
About the exhibition's title, Banerjee says "A blemish is a mark that is an error that also identifies our uniqueness like a birthmark, or it can be a wound or unnatural scar. This idea can be applied to communities that we reject. I want us to remember that sometimes it is this very edge that determines our identity, our future and authenticity. Deep Pink is like a wound that exposes our color inside and reminds us we are of the same flesh."
Self-described as a "post-colonial feminist scholar and humanist," Banerjee talks about "the ideal skin, proper normal color of beauty" in an accompanying video made by the museum's Director of Communications Brian Kearney. Playing on a tablet, the video makes you feel as if the artist is right there in the room talking to you. Banerjee speaks with the intonations of a poet as well.
"Made of stone, this beauty is frozen, it is the legend of Medusa that creates the legacy of immobile sculpture," says Banerjee. In the room for the installation, she is trying to create movement in an enclosure which she describes as a domestic space. "The mirrors are decorative objects that create constellations like stars that reflect back upon us who we are."
The museum had approached Banerjee well before the pandemic, according to Executive Director Marjorie Frankel Nathanson. Banerjee describes the pandemic as "an important mirror by which to see your life… what it is and what you as the maker want it to be, shaping it to feel like a fine-fitted garment and not a store-bought readymade." She asks herself, "where can I grow and where can I give more?"
After earning a Master of Fine Arts at Yale in 1995, Banerjee's career rocketed to success, including an invitation to participate in the 2000 Whitney Biennial and other biennials throughout the world.
She had her first American retrospective at the Pennsylvania Academy of Fine Arts in 2018, an exhibition that filled the Frank Furness-designed rococo building with a floating red cellophane version of the Taj Mahal titled "Take me, take me, take me… to the Palace of Love" and other sculptures made from parasols, a Yoruba mask, Korean and Indian silks, Chinese altar lamps, Japanese mosquito nets, glass beads, toys, and any number of items you might find in an international bazaar. It is fitting, as her work addresses globalism and colonialism, as well as ethnicity, race, migration and American diasporic histories.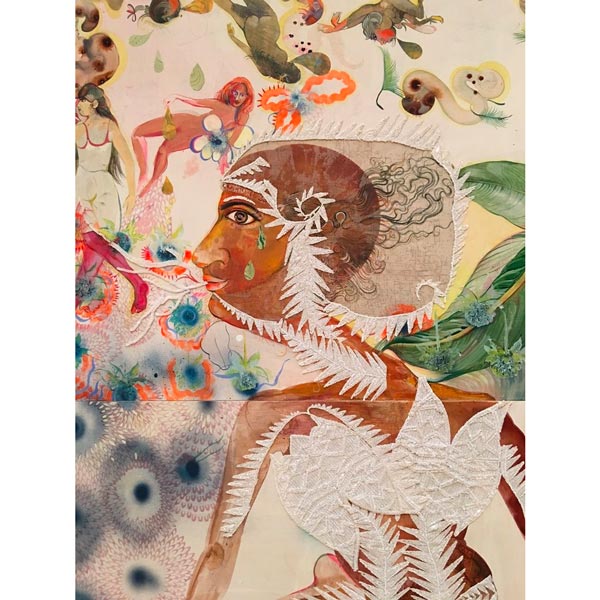 Rina Banerjee, Mother Gathered Three or no more dirty black stones, tossed them to sky that could break what had hardened her ground and without frown or flirt of flower father like grease or butter slipped aside to free her from forty and some more grown men who held her as housewife like plant life with three or no more daughters, 2017, Acrylic and collage on wood panel. Collection of the artist, Courtesy of AICON Gallery.
Born in 1963 in Kolkata, India, and living in Manchester and London, England, Banerjee  moved with her family to Queens, New York, at age 7. "I remember some and selectively but I also feel its weight upon my life as it was a time that salted my familiarity with migration politics in the 70s," she reflects.
"The neighborhoods preserved a way of life that was sourced from the continents and countries abroad and it was home away from home, forged out of memory and dislocation," she continues. "Asians were the newcomers. I am quietly surprised when people resist access to each other when all cultures are in fluid transition and movement."
Banerjee gathers her materials from numerous sources. Her interest in using red cellophane as a material stems from the time before she turned to art, when she worked as a polymer chemist at Pennsylvania State University.
Advertise with New Jersey Stage for $50-$100 per month, click here for info
---
Both the finding and the seeking of materials is important to the work, she says. It is her method. Sometimes "it is a wild goose chase which can make you kneel to new realities. What you find sometimes finds you first. People give me things in faith to steer my driver's wheel and that's very important as well."
The exhibition fits with HAM's mission, says Nathanson, which is "to show art that is meaningful and resonates and speaks to the times." While the museum is known for its exhibitions focused on contemporary interpretations of craft, "not all our exhibitions have a craft component. We love the intersection of craft and fine art – those definitions are no longer useful, as artists cross that line."  
Among the materials Banerjee employs in her other works at HAM are sequins, electrical diagrams, painted patterns, a Victorian doll, handmade paper, a bronze-colored wall sconce, feathers, bulbs, and a vintage ceramic doll head. The subject matter includes figures in Edenic-like gardens exuding fluids from orifices, serpents, winged figures, flies and droplets. Her paintings are inspired by Indian miniature and Chinese silk paintings, and Aztec drawings. Childhood fables, such as "The Wizard of Oz" and "Little Red Riding Hood," find their way into her work, where she takes liberties with the original meaning.
In images online, Banerjee wears colorful eyeglasses and her thick, dark, lustrous hair brings to mind a video from her PAFA exhibition in which she is receiving a coconut oil scalp massage and seems to have achieved Nirvana induced by the fingers working the fragrant tropical balm into her pores.
Banerjee, who lives and works in Manhattan, was in the South of France when interviewed for this story. She has been commissioned by Foundation Thalie, a Brussels-based private collection launching its second location in Arles. "The director, Nathalie Guiot, invited me to design a seven-foot round floor mosaic made of stone and glass," she writes. Planned as part of the permanent collection, "the work will offer an inspirational note on climate" with "a tongue and teeth motifs swirling with the third eye in a tender green earth made unrecognizable. I am always in search of projects that realize the connectivity of body to building to world as containers that are leaky, entangled from inside to the outside, portals surrender."
Also on view at HAM through Sept. 4 is Maxwell Mustardo: Dish-Oriented. Though ceramics might fall more into the craft category, Mustardo crosses that boundary with his nonfunctional amphorae. The 2-handled vessels are neon colored and roughly textured, and look almost like human figures. Inspired by Roman amphorae, the handles here suggest human arms resting on the hips, and the slightly bent openings are like human heads.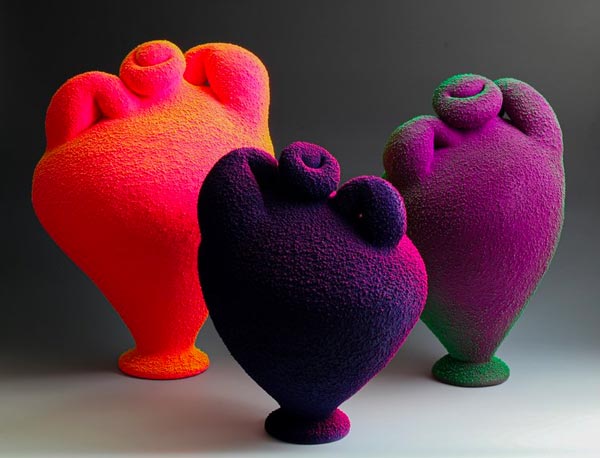 Maxwell Mustardo, Anthropophora Grouping, 2021, glazed stoneware, PVC rubber coating, various sizes. Photo courtesy of the artist.
Mustardo is resident artist at the Flemington, New Jersey-based studio of Toshiko Takaezu (1922-2011), the celebrated ceramic artist known for her pioneering of the closed vessel.
A native of Pittstown, New Jersey, Mustardo (born in 1993) began his interest in ceramics in high school. Through a family connection, Mustardo met Don Fletcher, a one-time ceramic student of Takaezu at Princeton University. Mustardo began visiting Takaezu's studio and on a few occasions had lunch with Takaezu, who was known for the wholesome food she prepared from her well-tended garden (Mustardo helped in the garden, as well). The Takaezu Studio offers open houses, sales and other events featuring its residents.
"Most impactful was seeing this mysterious woman who was doing ceramics on a level I couldn't have conceived of at that time; seeing a lifestyle I couldn't have conceived of," Mustardo writes in an email. "Her influence on me, today, is mostly through her legacy as disseminated through her work and her teaching. She was a deeply thoughtful, extremely hardworking, singular individual."
A graduate of the New York State College of Ceramics at Alfred University where he received his Bachelor of Fine Arts and Bachelor of Science in Art History and Theory, Mustardo feels lucky to have access to her studio. "It's an excellent facility for producing ceramics," he says. "A hallowed space given its history."
Mustardo has been conducting rigorous material research with plastics and glasses for the past few years, according to the New Harmony Clay Project, where he held an artist residency September 2020-March 2021. While there, he developed his own glazes using metal saturated glasses, leading to the creation of forms tailored to suit the needs of these developed surfaces. The iridescent colors and textured surfaces seen at HAM demonstrate the results, creating a process that is unique to him.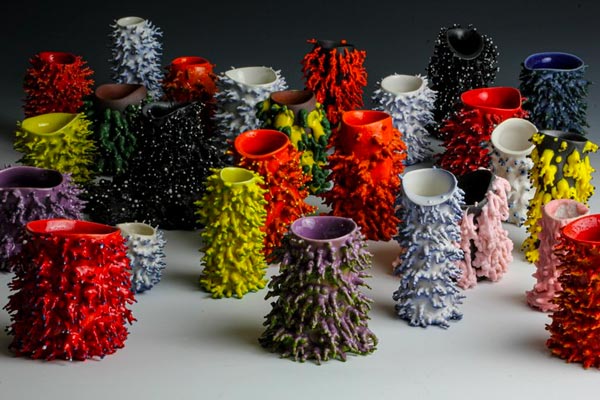 Maxwell Mustardo, Shot Glasses Grouping, 2021, glazed porcelain, various sizes. Photo courtesy of the artist.
Also on view are works in his intimately sized highly textured shot glass series, begun after surgery for a detached retina, during which time Mustardo had to keep his head bowed and couldn't lift anything heavy; a stacked work inspired by the ceramic artist Peter Voulkos, celebrated for pioneering abstract expressionism to the medium; and a mug series, in which the body of the vessel becomes subsumed into the form. "Blurlpe #3," for example, looks more like a collapsed purple donut, and challenges our perceptions of what, exactly, a mug is.
As the exhibition title states, these works are not functional dishes, but they are "dish oriented."
---
About the author: Driven by her love of the arts, and how it can make us better human beings, Ilene Dube has written for JerseyArts, Hyperallergic, WHYY Philadelphia, Sculpture Magazine, Princeton Magazine, U.S. 1, Huffington Post, the Princeton Packet, and many others. She has produced short documentaries on the arts of central New Jersey, as well as segments for State of the Arts, and has curated exhibitions at the Trenton City Museum at Ellarslie and Morven Museum in Princeton, among others. Her own artwork has garnered awards in regional exhibitions and her short stories have appeared in dozens of literary journals. A life-long practitioner of plant-based eating, she can be found stocking up on fresh veggies at the West Windsor Farmers Market.
Content provided by
Discover Jersey Arts
, a project of the ArtPride New Jersey Foundation and New Jersey State Council on the Arts.